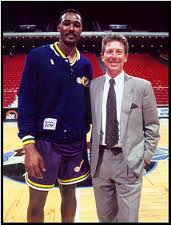 Coach Andy Russo offers 35 years of experience developing competitive basketball players and programs.
His teams have won championships at virtually every level and his players consistently played to their highest potential. Along their way he has had a hand in teaching the game to players at all stages of development from NBA stars such as Karl Malone, Michael Jordan, Patrick Ewing, to young beginners who will be the "FUTURE HOOP STARS."
The goal of Future Hoop Stars is to offer a variety of programs for players of all ages, genders, sizes, and shapes to learn basketball the right way. Over the course of time, hard work, dedication, commitment, repetition, and positive reinforcement produce a winning combination.
During the next few months and beyond, we will offer several opportunities for young players to learn the game. Hopefully, you will find the time in your busy activity schedule to take part in some of these sessions.
We will be constantly updating this website with information about our camps, clinics, and small group instructional programs.
Please contact us if you are interested in participating.